Home to many forest reserves and gorgeous beaches, Kauai sits in the Hawaiian Archipelago and is perfect for getting out and about to enjoy the fresh air. However, for those days you'd rather stay in and focus on self-care, these seven luxurious spas are here to soothe every ache from the inside out. Allow the professionals to take charge so you can find a moment of rest and relaxation.



1. Hanalei Bay Massage and Spa
The Hanalei Bay Massage and Spa has called the North Shore of Kauai home for eighteen years. Owner Maia (Janu) Januaria Clark received her certification of Clinical Massage Therapy in 1995, helping her to offer guests a fully immersive relaxation experience. Many massages are offered, such as Swedish, Hawaiian Lomi Lomi, Combination, Deep Tissue, Prenatal, and Hot Stone; however, the massage therapists can also create a custom massage tailored to suit your body's needs. Expect to receive your massage in one of three air-conditioned rooms while you listen to soft music. You can also realign the structure and energy of your spine with the help of essential oils during a Hanalei Raindrop Therapy session. This spa is not one to miss.
2. Hanalei Day Spa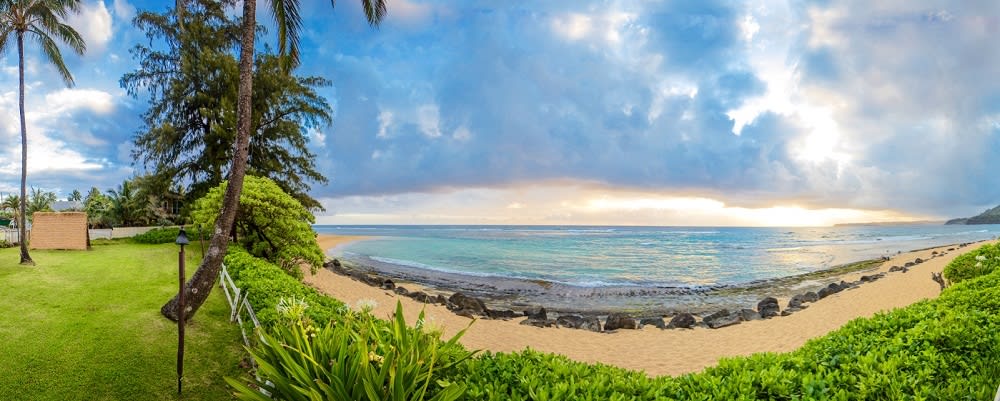 Credit: Hanalei Day Spa

Nestled between Haena Beach and the Bali Hai Mountains is the Hanalei Colony Resort. The resort offers plenty of activity options, including helicopter tours, sunset cruises, and luaus, but remember that you can be as busy as you want on Kauai. Luckily, the Hanalei Day Spa inside the resort is the perfect way to be "un-busy" on your vacation. The spa offers body scrubs, body wraps, and massages with the option to add on hot oil hair and scalp treatments, hot stones, sunburn relief, mud wraps, aromatherapy, or adding a second therapist for a four hands massage for ultimate relaxation.

Guests can also receive their massages beachside at the only authentic thatched-roofed 'Lomi Hale' in Kauai. Additionally, ninety-five percent of guests are couples. Many enjoy the popular package "The Royal Couple," which consists of a one-hundred and ten minute Hawaiian Lomi Lomi massage on the beach with an oil treatment for the hair and scalp.
3. Spa by the Sea
Chiropractic Doctor Gregory Smith owns the Spa by the Sea at the Waipouli Beach Resort in Kapa'a. Some of their services are similar to others found on Kauai, but this spa also has some distinct features and services. Rent some beach accessories, utilize the fully-equipped male and female locker rooms, or shop the on-site boutique either before or after your massage session. Massage options include Hawaiian Lomi Lomi, Pohaku (hot lava stones), Deep Tissue, Swedish, and Thai, or beachside options. If your body needing a little more than just the base offering, add on some time in the Japanese soaking tub, additional hot stones, or a hot oil scalp massage to show your body some love!

Try out the Ancient Volcanic Ritual body treatment for the ultimate level of self-care. Therapists will apply a Papaya-Pineapple body scrub followed by a botanical mask made from volcanic ash and China clay. This is all rinsed via their Vichy shower and concluded with a coconut lotion moisturizing massage.
4. Hawaiian Rainforest Spa
The Hawaiian Rainforest Spa at the Kauai Beach Resort offers all of their massages oceanside at no extra cost, and with a view like the ocean, there's no going wrong! Treat yourself to a facial with or without the massage, along with a Hawaiian Lomi Lomi massage followed by a Noni spot treatment to aid your skin against the sun's burn.

Vacations can be a stressor on otherwise happy relationships, but luckily a reprieve isn't far from reach. Couples can enjoy the Rainforest Honeymoon RItual package, where they'll receive side by side coconut milk scalp treatments, hand and foot exfoliation with ginger-lime scrub, and Hawaiian Rainforest massages.
5. Alexander Day Spa and Salon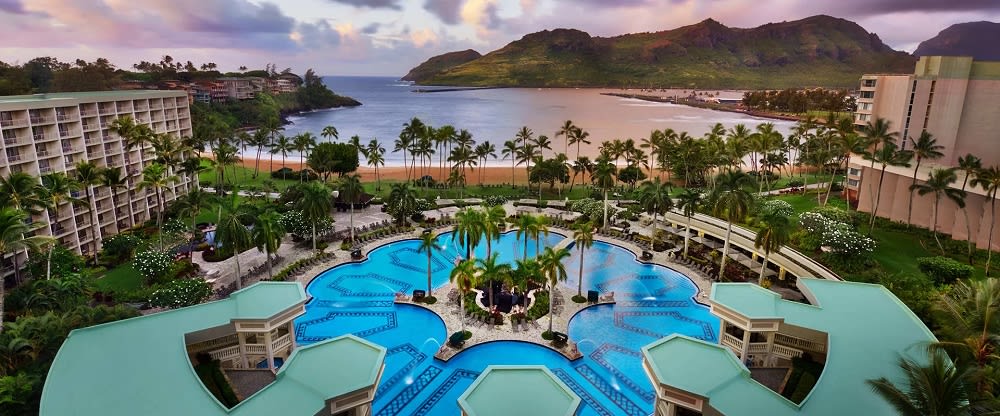 Credit: Royal Sonesta Kauai Resort

In Lihue at the Royal Sonesta Kauai Resort, spa guests have a large variety of service options to choose from. Start out your visit with a facial to allow your face to be rejuvenated from recent dryness, and leave with supple, moisturized skin. The unique massage options offered at this location are Shiatsu, sports massage, and a Puhalo-Steambath, which places guests under a steam canopy for ten minutes, followed by a salt and pineapple body scrub and your choice of massage. Choose from Pohaku Lomi, Reflexology, Prenatal, Swedish, Lomi Lomi, or a custom mix to soothe and satisfy every muscle.

Feeling a little sunburnt from your local excursions? Try a Hanalei Noni sunburn treatment with noni nectar and aloe vera. All massages are offered in-spa or outside at the beach cabana. Couples have the additional option of taking their massages in their hotel room for added privacy. Ready for that makeover? Choose the Ultimate Aloha package for a pineapple papaya body scrub with massage, an additional custom massage, and a custom facial. There's no doubt about it: at the Alexander Day Spa and Salon, you are sure to be leaving feeling better than when you arrived.
6. Wai Pua Spa
Book a water bath filled with fresh flowers at the Wai Pua Spa in Anahola. Upon arrival, you will be treated to a fresh drink made from the garden before you're walked through the garden to an antique cast iron tub filled with fresh, cool water and the floral bath of your choice. You will be provided with a pareo and a towel before you're left on your own to soak.

Relax and rejuvenate in a Plumeria Passion soak with fresh Plumeria flowers from the garden, a handmade lei po'o (flower crown), fresh fruit and drink, and the add-on of your choice. All of the add-ons are made with your self-care in mind, from the outside to the inside. Eat brunch, try out a coconut sugar scrub, a honey facial, or flower-infused body oil to elevate your bath into a true full-body experience. If you want photo evidence to remember how relaxed you are, you have the option to bring your own photographer or hire one from the spa that is available with every bath, as well as the choice to utilize a Bluetooth speaker.
7. Advanced Skincare of Kauai
Living on or visiting an island where the weather is constantly beautiful can be an exhilarating experience, but all of that sun exposure can be severely damaging to your skin. Owner Dhyanna Dunville uses her years of experience as a medical esthetician to provide guests with a variety of facial options to suit the unique properties of their skin.

If you're not sure what kind of facial would be best for you, free skin consultation appointments are available. Receive an overall assessment of your skin type, as well as recommendations for treatments and products that will improve the appearance and health of your skin. Dhyanna makes sure that guests are aware of the need for at-home skin regimens paired with treatments in order to receive the best results.

The services offered at the Advanced Skincare of Kauai spa in Princeville include Microdermabrasion, chemical peels, microcurrent, LED light therapy, therapeutic facials, and brow shaping. If you're interested in trying out the Advanced Signature Facial, an Advanced Facial Peel Treatment with LED therapy, or an Advanced Hydra Radiance Peel, make sure to schedule an appointment, as they do not take walk-ins for these services.


At these beautiful spas, it's easy to find some peace and relaxation, even on vacation when your schedule might be packed. Locals on Kauai know how to extend this ease and relaxation into every facet of their everyday lives. If you're ready to invest in your self-care and Kauai real estate, contact Yvonne Summerfield today. She'll help you scour Kauai homes for sale until you find the perfect home for that perfect "Aloha."