Kauai beaches are known for their sweeping dramatic views and diverse terrain. From family-friendly and sandcastle-worthy spots to scenic hideaways only accessible by foot, the beaches of Kauai are worth exploring. The Garden Isle is also home to lush greenery and thick jungles, which serve as a contrasting backdrop to many of the azure coastal waters.
North Shore
The North Shore of Kauai is home to enchanting jungles and heavenly beaches. Dotted with immense sea cliffs and lush taro fields, the North Shore is home to dozens of popular beaches and historic locations, like the
Daniel K. Inouye Kilauea Point Lighthouse
, a wildlife sanctuary for endangered seabirds, and the 17-mile long
Napali Coast
. Located about 90 minutes from the town of Lihue, the Napali Coast is a sacred spot to Kauai and is lined with gorgeous steep cliffs, stunning waterfalls, and expansive valleys. This area was the principal filming location for the first look of the dinosaur-inhabited island in the 1993 film
Jurassic Park
. It's best to view this sprawling section of natural beauty by helicopter for the full experience.
North Shore is home to so many gorgeous and "can't-miss" spots. Here are a few of our favorites:


Hanalei Beach Park and Bay is the most popular place to surf in the winter. The breaks reach 20-30 feet and make for ideal surfing conditions and excellent opportunities for spectators to kick back on the beach and watch. Hanalei Beach in the summer is the quintessential Hawaiian beach—featuring gorgeous sunny days, calm waters, and family-friendly activities, it's no wonder this location has become one of the most popular in Kauai.



Lumahai Beach

is a postcard-worthy spot made famous in the film

South Pacific

. Swimming is not recommended at this location, but it makes for incredible photo-ops!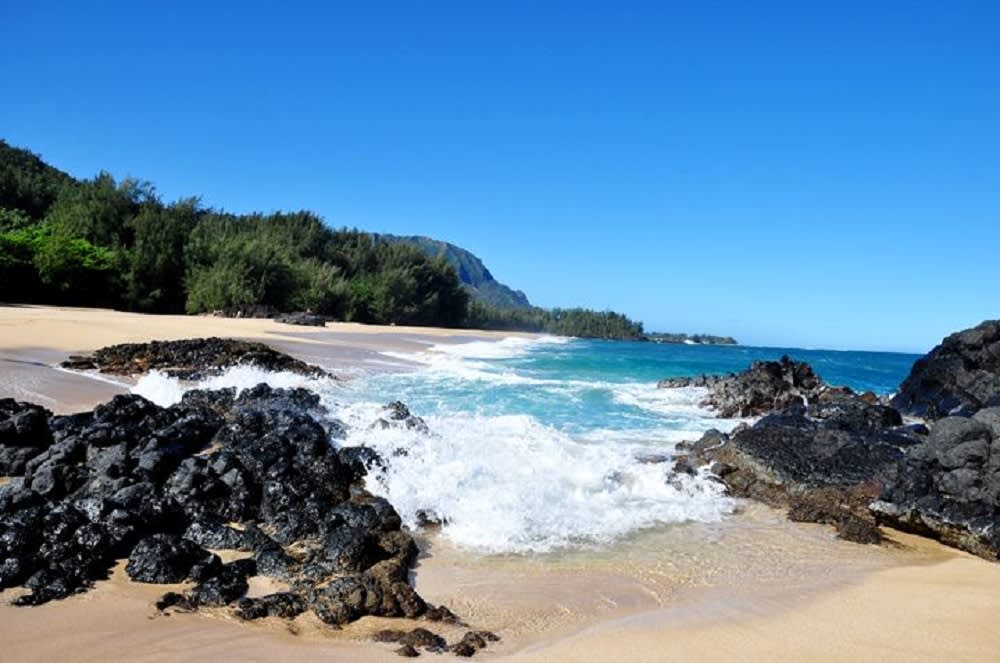 Lumahai Beach, Credit: Kauai


Ke'e Beach begins the Napoli Coast and offers the clearest waters during the summer months. Another ideal location for pristine photos, Ke'e Beach is one of the most scenic spots along the North Shore.



Anini Beach is one of the safest spots along the coast to enjoy a myriad of water activities, thanks to the protective fringing reef between the shoreline and the rough ocean waters. Enjoy snorkeling, paddleboarding, and windsurfing at Anini Beach.



Haena Beach boasts breathtaking views of Mount Makana in the distance and features a wide, white-sand beach perfect for evening strolls and beachcombing.



Makua Tunnels Beach

is the best place to go for snorkeling and scuba diving in Kauai. The area is lined with a sprawling, hook-shaped coral reef full of intricate underwater tunnels and bursting with marine life. Bring a waterproof camera to this spot for incredible photos of this underwater world of coral reefs, colorful fish, sea turtles, moray eels, and, if you're lucky, a glimpse of the Hawaiian state fish, the humuhumunukunukuapua'a.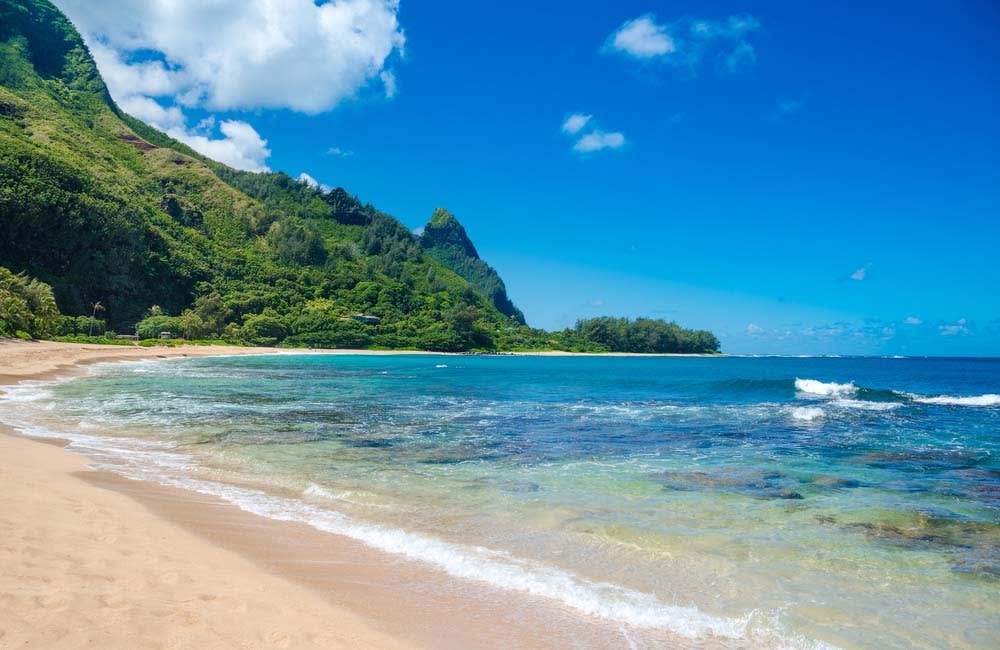 Makua - Tunnels Beach


Hideaway Beach (Pali Ke Kua) is one of Kauai's hidden treasures and only accessible by foot. Take a short, but steep, 15-minute walk to the shoreline, where the beach sits nestled between two private coves to enjoy a quiet, intimate beach experience!
South Shore
South Shore beaches are popular destinations for monk seal sightings and the Spouting Horn, a 50-foot burst of water released by a natural lava tube. Legend says this area of the island was protected by a giant lizard named Kaikapu. When the Spouting Horn releases its water, it lets out a loud hiss, which is Kaikapu's warning to visitors to stay away. The beaches on the South Shore provide some of the most photogenic locations on the island and feature dozens of family-friendly activities to explore, including browsing charming boutiques, dining at delicious oceanfront restaurants, and playing a round of golf on one of the local courses. South Shore Kauai truly has it all and is considered one of the busier sections of the island.


A few other alluring beaches include:
Poipu Beach Park, one of the most beautiful spots in all of Kauai. This beach is crescent-shaped, making it a great spot to get both the beach and ocean in the background of a photo, and is home to the famous monk seals (just don't get too close). This beach is perfect for families and animal lovers—you may even catch a humpback whale sighting during the winter!



Brennecke's Beach and Kiahuna Beach are the beaches in Kauai for bodysurfing. This protected area sees many visitors enjoying the waves and learning to bodysurf and surf along the breaks offshore.



Mahaulepu Beach is located on an isolated section of the coastline that leads to the

Mahaulepu Beach Heritage Trail

and Shipwreck Beach. This area is remote and the water is typically choppy and dangerous. This section is a sacred and protected area of land, so visitors are encouraged to be respectful and leave no trace.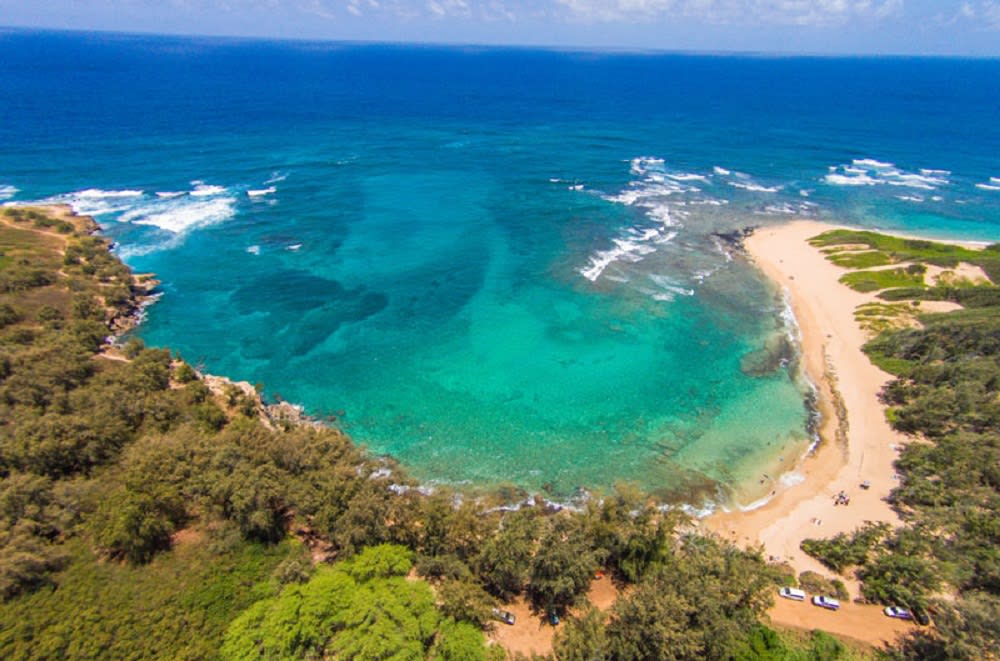 Mahaulepu Beach, Credit: Poipu Beach


Shipwreck Beach is a popular destination for photographers, as it provides excellent views of the ocean and seaside cliffs, as well as experienced surfers.
East Side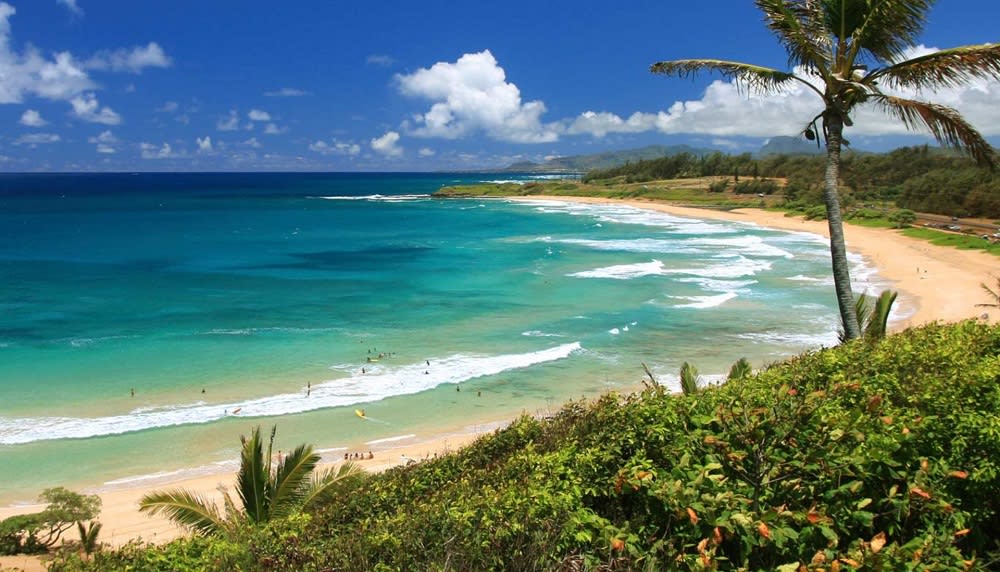 Credit: Royal Coconut Coast
The East Side of Kauai is often referred to as the
Royal Coconut Coast
for its plentiful coconut tree groves. You'll find dozens of these looming trees scattered across the beaches, offering shaded spots to catch a break from the abundant sunshine. The beaches along this sandy stretch are some of the best and most accessible on Kauai. Wailua Beach is one of the best locations for surfers and kiteboarders, thanks to the area's strong winds and currents. The beach is located along the mouth of the Wailua River and many families visit for turtle watching.
Head up the coast to a more swimming-friendly location at Lydgate Beach Park, which is monitored by a lifeguard and features amenities like bathrooms, showers, and picnic areas. The calm waters of this stretch of beach make for ideal snorkeling conditions and the area is known for its abundance of colorful fish—the beautiful lagoons along the coast act as makeshift private pools for beginner snorkelers.


A few other notable locations include:
Waipouli Beach, a quiet spot that's popular for sunset strolls. The Waipouli Beach Resort sits along the south end with shopping, dining, and hiking spots within walking distance from the shore.



Anahola Beach offers secluded sandy beaches with Kalalea Mountain views in the distance. Many families enjoy spending time at this beach since it's a great spot for casual snorkeling and relaxing in calm waters.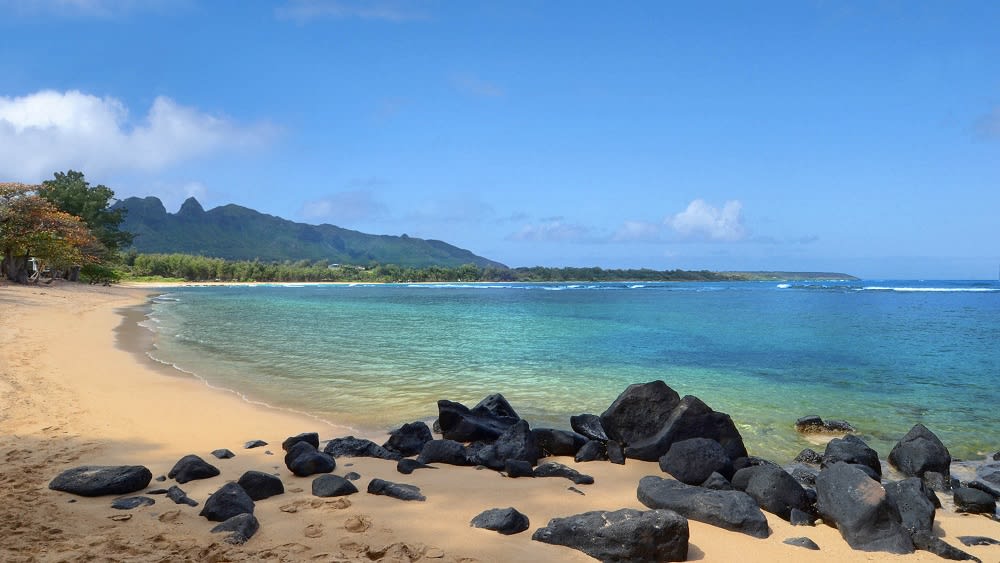 Anahola Beach, Credit: The Parrish Collection Kauai


Fuji Beach, also known as Baby Beach, is the ideal location for young children. Located between Waipouli Beach and Kapaa Beach Park, this area has plenty of shallow tide pools to explore and stretches about a mile long. There are a few picnic benches available and it's a frequent stop for runners and cyclists on the

Kauai Coastal Path

.

Kalapaki Beach is the "catch-all" location for water activities. The perfect place for swimming, surfing, snorkeling, boogie boarding, and stand-up paddleboarding, Kalapaki Beach has something for everyone. Surfing lessons take place here year-round and parking can be found at the adjacent Mariott Beach Resort.



Kealia Beach Park is one of the best beaches for surfing. With its sandbar bottom, this area is great to catch a wave but makes for some intense conditions. There is a protected area in the north with calmer waters, making it a nice swimming location.
West Side
On the opposite side of the island, the West Side beaches are home to stunning historic architecture, eclectic small towns, and incredible natural wonders. The entire area feels like a different island altogether! Visit Waimea Canyon Park for awe-inspiring views of the "Grand Canyon of the Pacific" and explore the streets of
Hanapepe Town
, one of Kauai's largest communities from World War I through the 1950s. Now a quaint small town, Hanapepe was used as inspiration for Disney's
Lilo and Stitch
and is home to dozens of quaint shops, small eateries, and the largest collection of art galleries on the island.
Several other popular beaches include:
Kekaha Beach is great for enjoying sunsets and combing the beach for treasures. It's also a popular beach for fishermen and surfers.



Salt Pond Beach Park is a popular spot for swimming, surfing, and relaxing on the beach. Many visitors take to the water for fishing and scuba diving excursions along this stretch and the area also features a camping location for warm evenings on the beach.



Polihale Beach is one of the longest white-sand beaches in the State of Hawaii. Road conditions are tough to reach its gorgeous shoreline, so make sure your vehicle is equipped with four-wheel-drive. This area is also home to the sacred (heiau) of Polihale, one of the oldest and most sacred on the island of Kauai. The original structure was built to thank the gods but is no longer visible due to centuries of sand accumulation and overgrown foliage.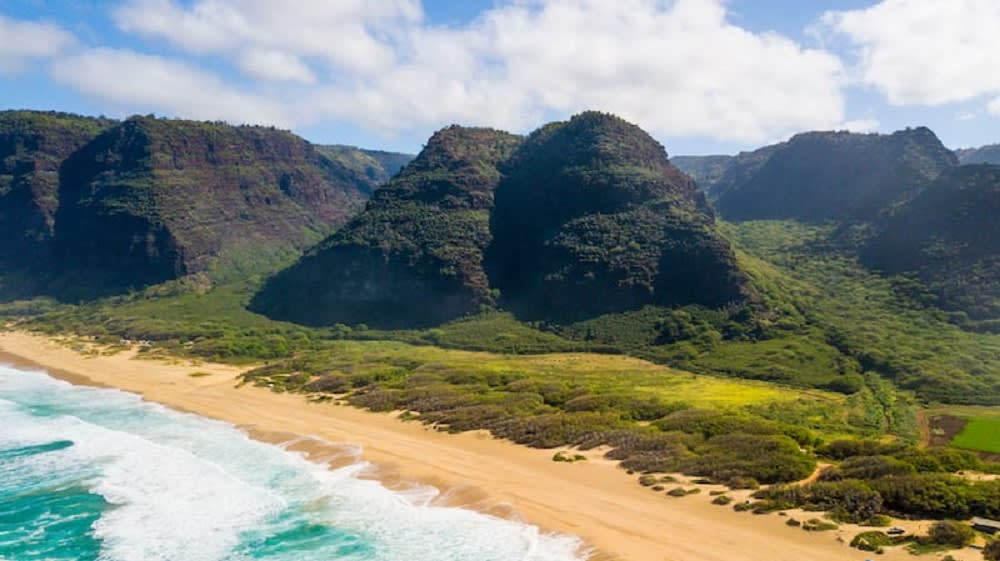 Polihale Beach, Credit: Hawaii Travel Blog


Waimea Beach features rare black-sand beaches with views of the Forbidden Isle in the distance. The Waimea Pier and cozy cottages line the coastline, reminiscent of simpler times and it's a great location for weddings and celebrations.
Want to experience the beaches of Kauai for yourself? Contact
Yvonne Summerfield
, Kauai's leading luxury real estate agent, for your next
home in paradise!
Yvonne is Kauai's #1 selling realtor with the most sold transactions and has been honored with dozens of awards for her professional, effective services since beginning her real estate journey in 2004. With over half a billion dollars in sales, Yvonne is the best agent to work with when buying or selling a home on Kaui—
contact
her today to find your next dream home!