There's little doubt that the Hawaiian island of Kauai is one of the country's most stunning tropical locales. Hawaii's fourth-largest landmass is affectionately and aptly nicknamed the Garden Isle. Earning every bit of that moniker, Kauai is a lush, mountainous haven amid the Pacific.
Boasting expansive ocean views, an abundance of pristine and picturesque beaches, and a vibe that takes relaxation to the next level, it's no surprise that Kauai has long been a preferred destination for vacationers seeking to escape life's daily grind.
But as stunning as the experience is for visitors, Kauai is even more spectacular for those who choose to call the island home. Below is a complete guide to Kauai real estate, including the regions, communities, and homes that best capture the Garden Isle's tropical luxury lifestyle.
The Island and Regions of Kauai
Whether your goal is a vacation home, investment property, or permanent residence, there's a surprising amount of diversity spread across the small but majestic island.
Although Kauai ranks just outside of the top twenty largest islands in the United States, at 562 square miles, Kauai is roughly half the size of Rhode Island.
Considering the grandeur of the scenery, it may be surprising to learn that most of the island is uninhabitable. It is also short on inhabitants. The sparse population of approximately 72,000 residents is spread across many coastal towns and villages. Practically every population center on the island is within three miles of the coastline. This makes for a unique and highly idealized lifestyle!
Kauai is the oldest of Hawaii's main islands, and its Waimea Canyon — the Grand Canyon of the Pacific — and
namesake state park
dominate the island's western region. For the uninitiated, this is where major sequences of 1993's Jurassic Park were filmed.
Head north, east, or south from this mountainous landscape, which reaches an elevation of 5,243 feet at the peak of Kawaikini. There, the land gives way to the island's coastal communities, detailed below.
North Shore
Extending from Ke'e Beach in the west to Kilauea in the east, Kauai's North Shore is arguably one of the most picturesque locations in all of Hawaii. It's a lush, rainy, and semi-secluded environment — an oasis away from the oasis. The celebrated Princeville Resort sits at the heart of this region. North Shore is particularly notable for the number of inlets, coves, and natural bays along its coast. It's here you'll find some of the island's best beaches and magnificent seaside cliffs.
Communities along the North Shore include Anini, Haena, Hanalei, and Waihina.
East Kauai - Lihue
Running along Kauai's eastern shore is the Coconut Coast, so named for the area's abundance of coconut trees thanks mainly to a former coconut plantation that once occupied the land. The most populated region of Kauai, the Coconut Coast, is home to Lihue, the county seat of Kauai County, and Kapaa, the island's largest town. Whatever comforts you seek, you'll find them here with the island's most commercialized districts.
Communities in East Kauai include Aliomanu, Anahola, Kealia, Moloaa, and Wailua.
South Shore
Kauai's southern expanse is most notable for its dry, sunny disposition — literally. This part of the island is regularly bathed in sunlight, making it an ideal landing spot for beach-going tourists. Most notable is the Poipu resort area, which includes the popular
Poipu Beach
. Head a bit further inland, and there's Koloa, the historic and well-preserved birthplace of Hawaii's sugar industry.
Communities in Kauai's South Shore region include Kalaheo, Lawai, and Omao.
West Kauai
The most remote of Kauai's four major population centers, western Kauai is framed by the spectacular topography that isolates it from the rest of the island. Though the beach areas are wilder and less popular than elsewhere on Kauai, there are numerous hiking and backpacking opportunities with access to Hawaii's most mesmerizing state parks, including Waimea Canyon and Koke'e. The charming and artful Hanapepe is a bohemian dream.
Communities in West Kauai include Eleele, Kekaha, Kokee, Polihale, and Waimea.
Communities and Home Styles

Although you'll find the process of purchasing a home on Kauai pretty much the same as anywhere else, the setting can make your home buying journey feel otherworldly. However, keep in mind what you want out of your luxury home and from your Kauai community, and you'll stay grounded as you navigate Garden Isle real estate.
Foremost, knowing the lifestyle you want on Kauai will narrow your search considerably. A few questions to consider as you begin your quest:
Are you seeking an upscale "beach bum" lifestyle? Or something more refined?
Is your heart set on living near the coast and one of Kauai's spectacular beaches? Or are you after the country club lifestyle with championship golf and resort-style amenities?
Will your home be purely for relaxation? Or will the house pull double duty as space to both work and play?
It's not an extensive Q&A, but it will set you on the right path to discovering which part of Kauai is most suited for your home buying needs.
Kauai Architecture
It also helps to know your preferred home type or style. Kauai is not a land of cookie-cutter subdivisions and paint-by-numbers mansions.
The majority of Kauai's luxury home inventory adheres to one of the following four styles: Asian Pacific, Balinese, Contemporary and Hawaiian plantation. There are both modern and classical interpretations of each form.
Many other home styles are represented throughout Kauai, including an impressive contingent of straightforward modern builds infused with a unique island flair.
The common theme you'll find running through many Kauai properties, regardless of home type, is a commitment to resort-style living. Infinity edge pools, natural building materials, indoor-outdoor living, large gathering spaces, even larger owner suites, kitchens on par with four-star restaurants, and unmatched views of the land, sea, and sky are the rule, not the exception.
Kauai's Luxury Communities
So, where does one find Kauai's most sought-after luxury housing? Let's revisit three of Kauai's regions and dive into the luxury communities each one offers.
North Shore
The North Shore from Kalihiwai to Princeville and Hanalei features a mix of immaculate ocean estates, beachside mansions, and resort community homes with club amenities and views of the ocean and surrounding mountains and cliffs.
Single-family home prices in this region, on average, start from $1 million and shoot upward from there. The median home price for Princeville, including its condo and townhome offerings, is $865,000. For a more exclusive enclave, such as Anini Beach, the median is $1.5 million.
In addition, you can find some jaw-droppers in the eight-figure range with relative ease.
East Kauai
From Lihue and Hanamaulu to Wailua and Kapaa along the Coconut Coast, Kauai's main population center features more traditional but extremely well-appointed residential homes. Though some spectacular estates are available, most homes in this region range from $750,000 to $1.5 million.
The farther you venture from East Kauai, the more exotic and luxurious (and pricier) island residences become.
South Shore
Head south, where many of the more opulent residences are designed to take advantage of the region's sunny and dry climate. If you're in the market for an upscale beach bungalow, you'll find more than a few here.
The primary neighborhoods are centered around Kalaheo, Koloa, and Poipu. The latter's namesake beach and Koloa's historical roots are the main attractions. Koloa's median home price is $962,000.
Set back in the foothills above Poipu, the grandest of Kalaheo homes feature expansive panoramic views of the Pacific and access to standout golf. The median home price stands at $1.125 million.
Kauai Condominiums
Finally, Kauai offers a beautiful collection of seaside condo communities for those seeking high-end, low-maintenance living. While condos are dotted across the island, you'll find the largest concentration of luxury condominiums centered around Poipu in the south, Princeville along the North Shore, and Wailua along the Coconut Coast.
A Market of Opportunities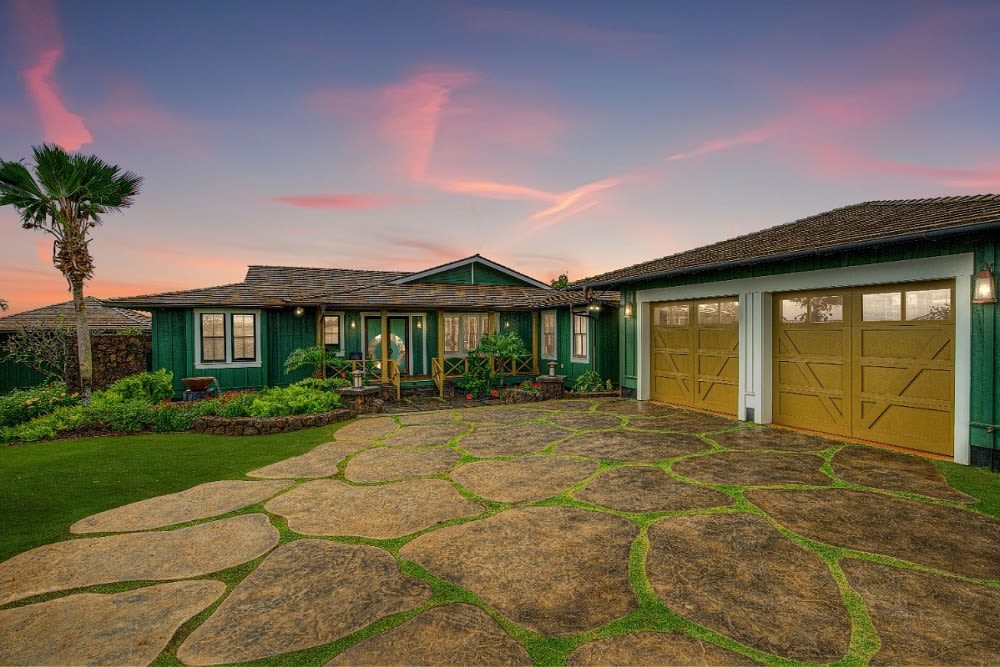 Depending on the level of luxury you're interested in, Kauai real estate can prove competitive, particularly at the upper end of the scale in the island's North Shore region. This region continues to prove popular with mainland buyers who possess deep pockets.
Overall, the median sale price on Kauai single-family homes is $1.125 million. The average sale price hovers just above $2.4 million. For condos, the median sale price is $629,000 with an average sale of $720,000.
For those aiming to stretch their luxury dollars, Koloa and Poipu are solid investments, especially for those who want a more bench-centric lifestyle versus the North Shore's more mountainous and rainy environs. New developments are popping up here regularly and offer prime opportunities to enter the Kauai market.
Ready to experience the absolute best of Hawaii's luxurious Kauai?
Contact Yvonne Summerfield today
and allow her experience and expertise to be your guide to Kauai's luxury real estate market. From homes for sale in Kukuiula near Poipu Beach to the North Shore's one-of-a-kind real estate in enclaves such as Princeville and Hanalei Bay, Yvonne will ensure you live your best life possible in a spectacular setting.