Kauai is a picturesque island best suited for outdoor adventure. This slice of paradise captivates locals and travelers alike, with a stunning combination of jagged emerald mountains, sublime waterfalls, scenic beaches, and roaring surf. Kauai's scenery is ideal for a lifetime of outdoor recreation, from paddling rivers to get a birds-eye view of the island from a helicopter.
But perhaps the best and most affordable luxury of life on Kauai is its endless surf. Whether you're a total novice or a seasoned surfer, Kauai is a surfer's paradise worthy of exploration.
Anahola Beach
Secluded, family-friendly, and perfect for all sorts of beach-going adventures, Anahola Beach is a fantastic destination for novice surfers who want to improve their skills. Anahola Bay's white sand beach is a beloved local hangout where people flock to sunbathe, swim, and surf mellow waves. Once you've had your fill of surf, find shelter under the beach's ample shade, or take advantage of their picnic tables and camping facilities.
Hanalei Bay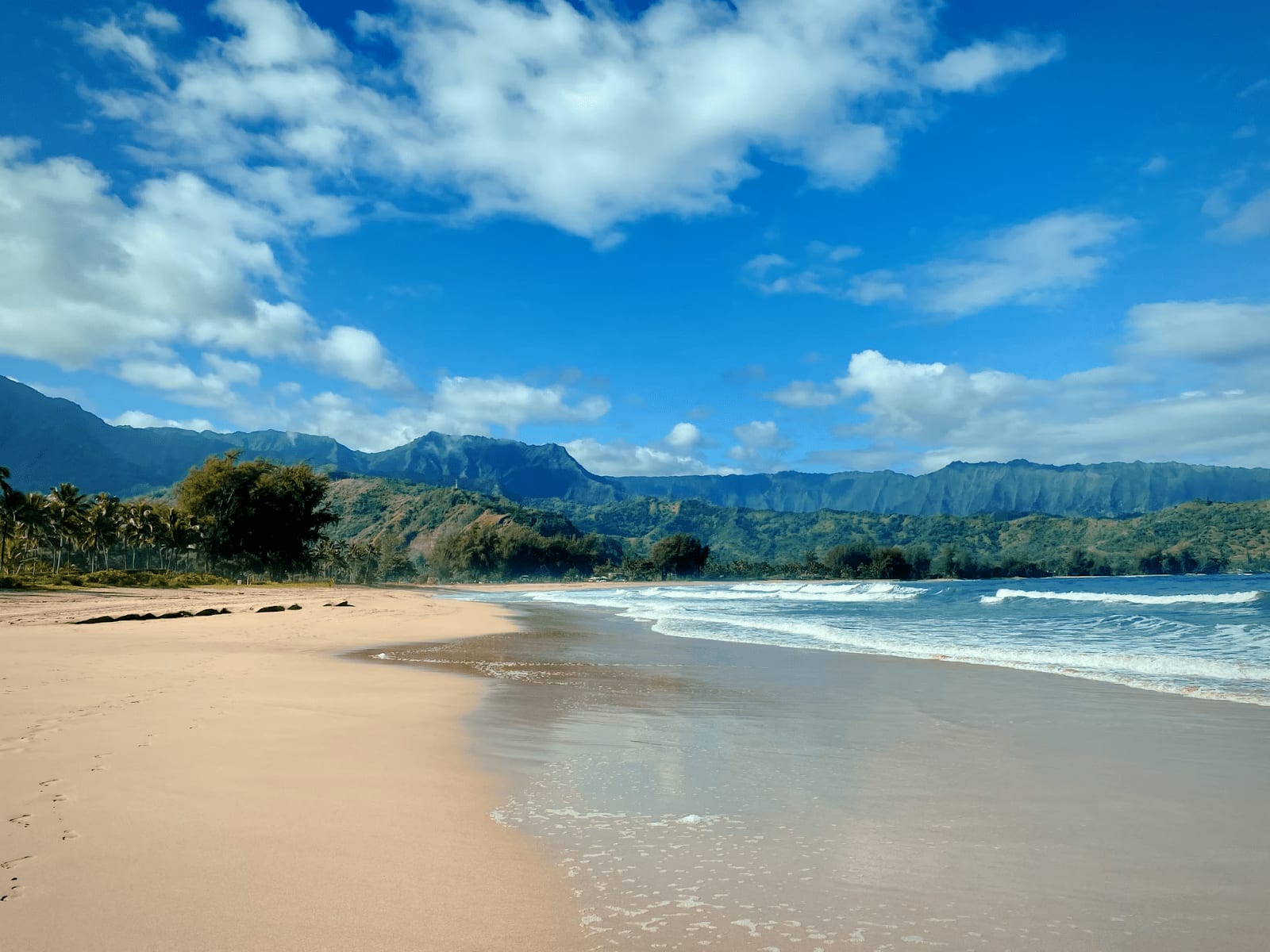 What Hanalei Bay lacks in size, it makes up for in personality and appeal. People adore Hanalei Bay for its idyllic sunsets, majestic mountains, and family-friendly vibe. The waters are calm during warmer months, making it the perfect place for swimmers, snorkelers, and surfers to hone their skills. Experienced surfers visit during winter to catch an adrenaline rush on large seasonal swells. Beyond surfing, Hanalei Bay is visited for its historical Hanalei Pier, the perfect launchpad for diving into crystal blue waters, or an afternoon stroll along the coast. Round out the day with a trip to the town of Hanalei to browse various shops and savor the delicious local cuisine.
Horners
Horners is a popular surf spot amongst both locals and visitors. A famous destination for family beach trips, this beach offers a relaxed atmosphere where people can soak up the island sun, build sandcastles, and create lasting memories with loved ones. Horners is a reef break that boasts three parts: the fairly shallow inside break, the middle break, and the outer break. The varying conditions create ideal swells for surfers, especially those with some experience.
Kahili Beach
Also known as Rock Quarry Beach, Kahili Beach is a popular surf spot. The beach is easily identifiable because of the nearby rock quarry and Kilauea River. Although the quarry is no longer in service, it's a fun area to explore. The beach itself offers a large calm area perfect for swimming and a good snorkeling spot just adjacent. When the surf is up, bodyboarders and surfers gather to ride the exhilarating swells. The coastline is great for day camping and the nearby Kilauea River affords fishers a peaceful place to wait for their next catch.
Kalapaki Beach
Kalapaki Beach is an excellent beach for swimming, paddleboarding, and learning to surf. The best feature of Kalapaki is its tranquil waters (due to breakwaters that stop big waves from coming into shore). If you've always wanted to learn how to surf—you're in luck. Kalapaki Beach has a surf shop offering rentals and surf lessons on site. In addition to optimal conditions for novice surfers, Kalapaki Beach is perfect for packing a picnic lunch and dipping your toes in the clear water. Once you've spent the day reveling in the beach's majesty, head to one of the nearby eateries for a bite to eat and a little retail therapy.
Kiahuna Beach
The waves of Kiahuna Beach are suitable for both beginners and avid surfers. The soft sand bottom and waist-high water summons surfers to work on their skills and score some waves. Further offshore, thrill-seeking surf experts can relish more challenging waves. Stay close to shore if you're a beginner, and don't forget your umbrellas and sunblock, as the beach provides minimal shade. If you're looking for a beach to take a cool swim, snorkel in a reef, learn to surf, or watch a glorious sunset, Kiahuna Beach is the spot for you.
Pakala Beach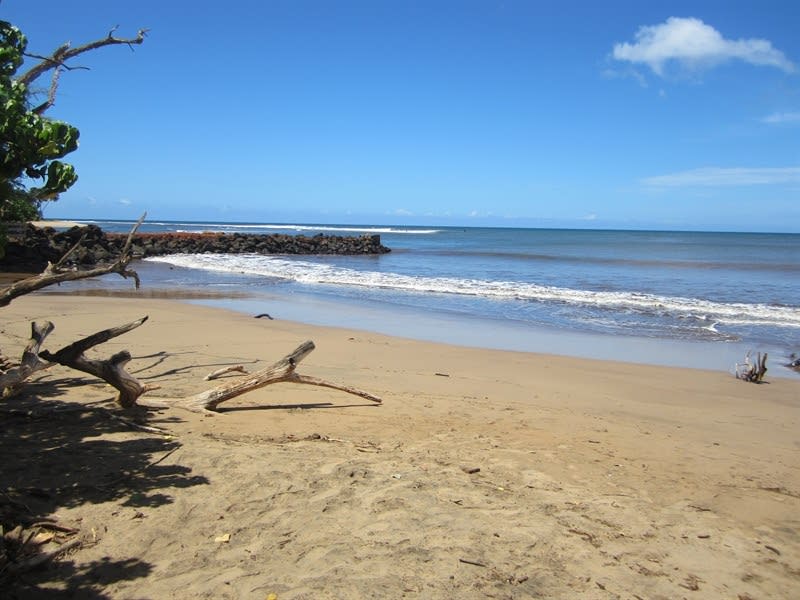 Credit: Kauai Beach Scoop
Pakala Beach is one of Kauai's best-kept secrets. This beach is excellent for travelers looking for some peace of mind and a place to relax on the sand. As far as the surf, Pakala is known for its surf break that lures expert surfers. If you're an experienced surfer or trying to catch a peaceful break from life's stress, head to Pakala Beach.
Polihale State Park
Boasting a seemingly infinite stretch of white sandy beaches edged by jagged cliffs, Polihale State Park is a hidden gem. Locals love the giant waves and panoramic views. The drive and hike to the beach can be a bit dicey, but the surf and vistas are well worth the trek. There's a sheltered area from the harsh waves for those who want to frolic in the water or go snorkeling. If you're an experienced surfer seeking some challenging and dangerous swells, Polihale is the ideal destination for you.
Shipwreck Beach
Located in front of the Grand Hyatt Hotel, Shipwreck Beach is a local favorite for surfing. This beach isn't the best for swimming or bodyboarding, as large waves tend to crash against the shore. The strong shore break here is certainly not for the faint of heart, so leave the surf to the experts. The sandy shore provides beachcombing and glorious sunsets for all visitors, and it's also home to the Maha'ulepu Heritage Trail, an enchanting hike that gives access to an otherwise unreachable shoreline.
Waikoko Reef
Kauai is teeming with hidden shorelines, but none is more alluring than the waters of Waikoko Beach. This generally low-key and relatively hidden beach is one of the best places to surf in Kauai. Avid surfers swarm to the area, waiting to catch the next big swell. The beach typically isn't crowded due to its risky swimming conditions, which leaves more room for serious surfers to gather. There's plenty of shade to catch a break from sunbathing and enjoy a family picnic while watching the experts surf.
Looking at homes for sale on Kauai?
Contact Kauai's top-selling realtor Yvonne Summerfield for all of your Kauai real estate needs. Yvonne's local expertise and outstanding customer service will help you find exactly what you're looking for in a luxury home—while making the home buying process feel like an island vacation.