Kauai, also known as the Garden Isle, is geologically the second-oldest of the main Hawaiian Islands. At approximately 562.3 square miles, it is the fourth-largest of the islands and the 21st largest island in the U.S. as a whole.


As a large island, Kauai offers endless opportunities for locals to take their own little vacation at home. You don't need to travel outside of Hawaii, or even outside of this beautiful island, to have a worthwhile holiday.


And while it would be very easy to list off famous hotels in Kauai, there are so many gems to discover. With their cozy, traditional Hawaii feel, it will be easy to feel relaxed.


Here are some special places to check out for your next Kaua'i staycation!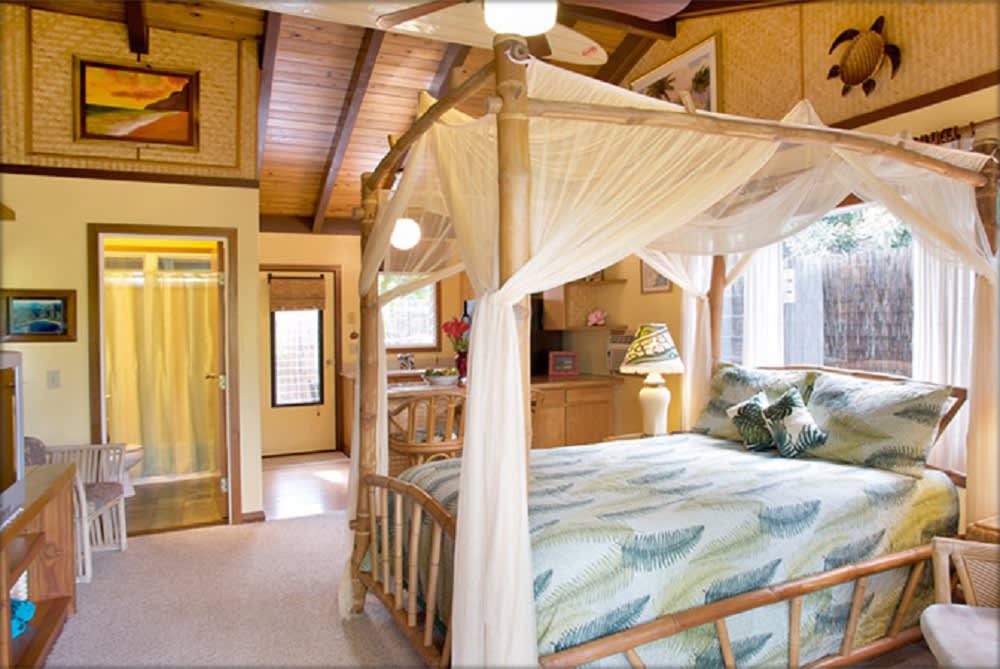 Image credit: kauaicove.com
Kauai Cove Cottage
Kauai Cove Cottage
is a resort with tropical Hawaiian decor located on a quiet plane in Poipu Beach. While it is self-described as being off the beaten path, it is within walking distance of Poipu's beaches, great restaurants, and shops.
The owners of this mini-resort have a great love of Kauai, and after doing some research, dubbed Kauai their favorite island of Hawaii. This is their dream, and they wanted to share their dream with the residents of Kauai and tourists to be able to experience this beautiful island to the fullest. This place is meant for people, local or not, to escape reality and experience the magic of the island.


The property is spectacular. There are three types of rooms you can book for your stay here: Plumeria Cottage, Pool Cottage, and Hibiscus Cottage. This place is perfect for honeymoons, anniversaries, or a relaxing retreat — or just a much-needed stay away from home.


You can also swim with turtles, and what's better than that?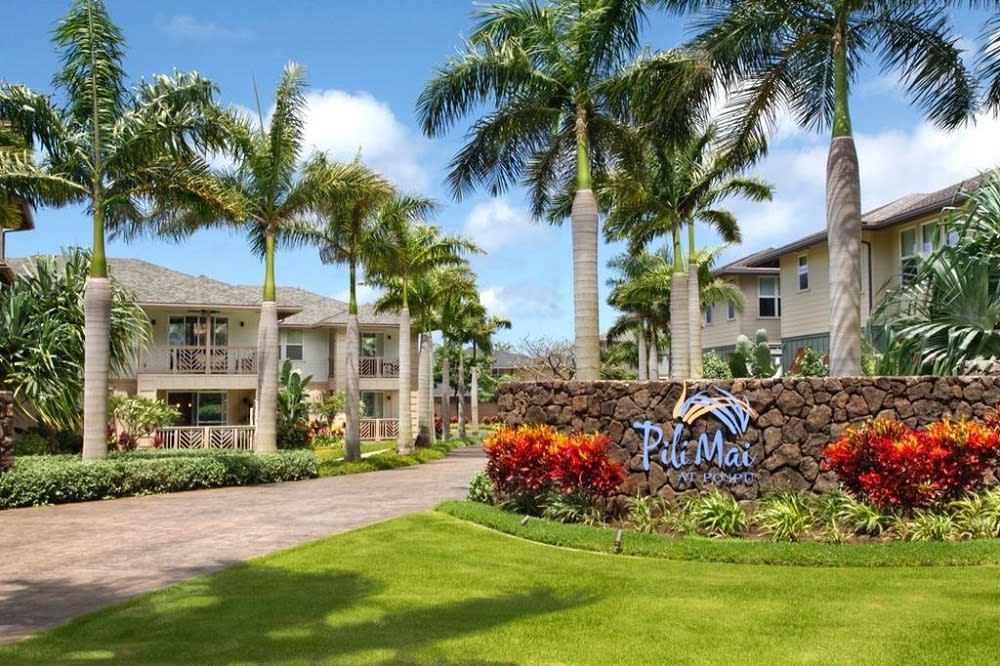 Image credit: hawaiigaga.com
Pili Mai at Poipu
Pili Mai at Poipu
is a resort chain within Hawaii. They have resorts in Kauai, Maui, Oahu, and Big Isle.
The Poipu Kai Resort, which is in Kauai, is a 70-acre community within the south shore. It consists of seven condo developments, residential areas with permanent homes, the eight-court Poipu Kai Tennis Club, a community pool and hot tub, and lovely garden paths that connect with areas of the resort. The resort extends from Poipu Beach Park to Shipwreck Beach.


There are many places for vacation rentals inside this resort: South, North, East, and West Kauai. People can live or vacation in Kahala, Manualoha, Regency, Poipu Sands, Makanui, and the Villas of Poipu Kai.


This resort is popular because of its location — it's pure Hawaiian authenticity. It is within walking distance of several restaurants and other neighboring beaches. The residential condos are great for families thanks to the spacious units, which offer a variety of options and views. It is truly a beautiful sense of serenity.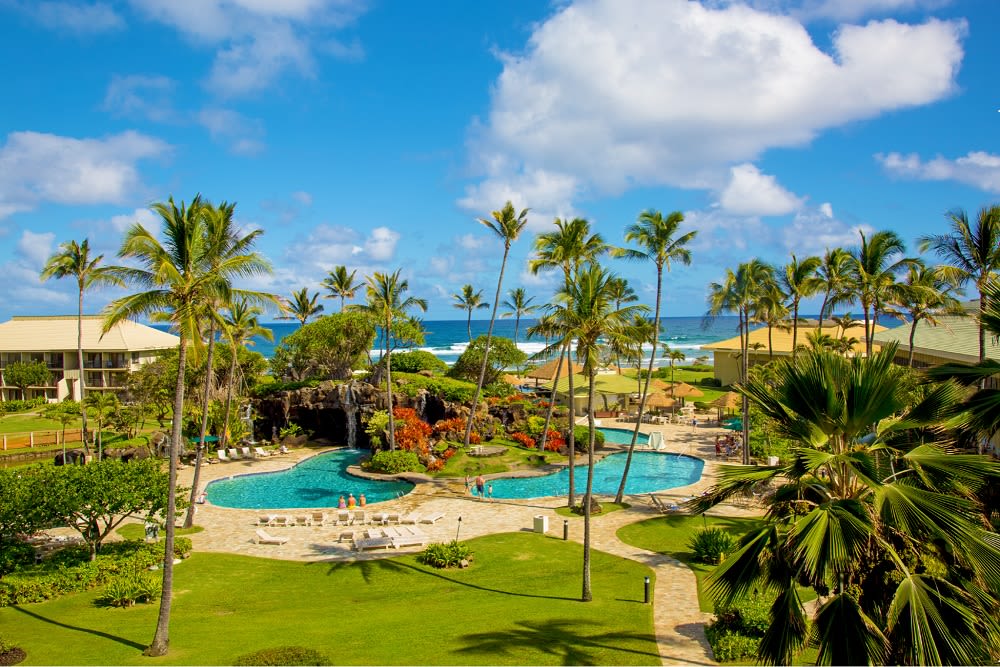 Image credit: Kauai Beach Resort & Spa
Kauai Beach Resort & Spa
Kauai Beach Resort & Spa
is known as a place of legend. This resort is the breath of fresh air most people need — an oceanfront escape that's worlds away from everyday worries.
This resort is situated on 25 acres of lush Garden Isle goodness between Kauai's North and South shores, which makes it the best place for anyone's island adventures. Paradise is truly the backdrop here, and the resort offers the perfect blend of traditional Hawaiian hospitality and modern touches to make your stay special.


At this resort, the rooms are not just rooms. They connect their guests to the parts of Hawaii they love most, whether that's the majesty of the mountains, the tranquility of the gardens, or the power of the water. They have rooms and suites in two different styles.


There are a total of four pools, two of which have lagoon styling and waterfalls. There is also a kid-specific pool with a sandy bottom and waterslide. There are also two hot tubs to relax in, poolside lounges and their infamous poolside Driftwood Bar. There are also several places to get food, including Naupaka Terrace, Driftwood Bar & Grill, and Shutters Lounge.


If you truly want to have a traditional staycation, there has to be a spa trip, right? Hawaiian Rainforest Spa is described as a reflection of Kauai and the geographic wonders of the Hawaiian Islands. Here guests will find a peaceful haven to restore, rebalance and rejuvenate their body, mind, and spirit. The spa's philosophy is to embrace respect for the land and to incorporate Kauai's indigenous botanical products in their signature treatments.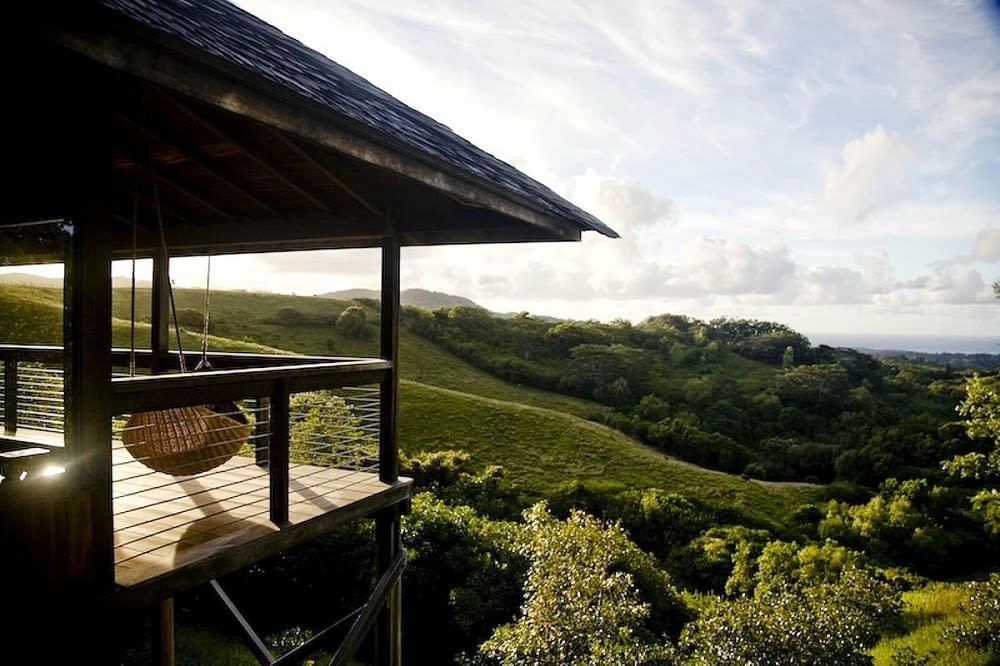 Image credit: tripadvisor
O'Luina Villa
Hailed as the best romantic hideaway in Kauai by Town & Country Travel,
O'Luina Villa
is an eco-chic luxury retreat on the isle of Kauai.
With beautiful organic architecture, a tropical ambiance, and elegant modern decor, O'Luina Villa is a perfect luxury villa for those in search of a sophisticated island stay. It has all the comforts and amenities of a luxury retreat, making it the perfect romantic hideaway, especially for honeymooners.


The villa is set on 11 acres of rural hillside at about 1,000 feet above Kalaheo. This unique retreat offers travelers, be they tourist or local, a stunning place to bask in the sun. It is mere minutes away from Kauai's beaches, the historic towns of Koloa and Poipu, and lots of privacy and luxury.


The contemporary Southeast Asian interior fuses with a traditional Kauai lifestyle to create a generous open space with spectacular ocean views. It is scenically breathtaking and harmonious with nature.


If you are looking for a secluded, peaceful, or possibly romantic hideaway, this is the perfect resort to check out.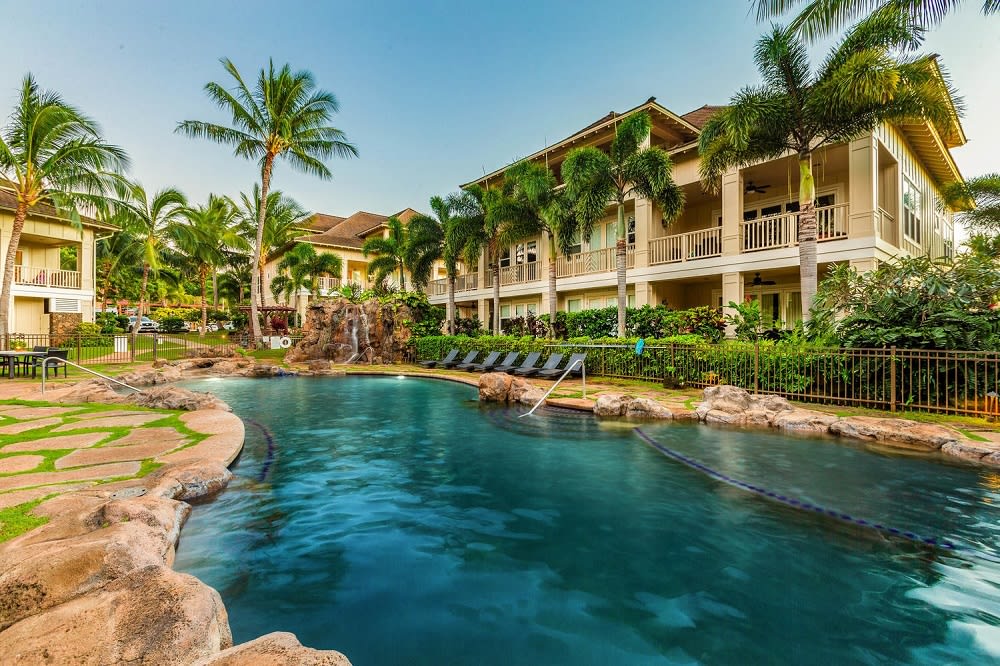 Image credit: villasatpoipukai.com
The Villas at Poipu Kai
The Villas at Poipu Kai
is described as being Kauai's premier boutique resort situated in the heart of the sunny South shore of Kauai.
It is known as being one of the finest properties ever been built on the island. Each vacation rental here includes three-four bedroom poolside villas and two-five bedroom garden villas. The villas are luxurious throughout and include gourmet kitchens with granite countertops, custom cabinets, and SubZero refrigerators. They are completely furnished with decor to complement its plantation style, and the poolside villas offer hardwood and tile flooring with natural stone bathrooms and expansive canals that extend to the living area.


Each villa includes central air — a true luxury on Kauai. And this is the only property within Poipu Kai with its own exercise facility, so even if you're on a staycation, you can maintain your fitness regimen. There is also a tennis club and a world-class golf course nearby.


The stunning mountain, ocean, and pool views here are sure to put you in the vacation mindset. There is also a tropical pool, hot tub, and water features surrounded by island landscaping.
Do you want more?
If you're interested in Kauai homes for sale or Kauai real estate, contact
Yvonne Summerfield
for more information.

*Header image credit: gohawaii.com