Nicknamed "The Garden Isle," thanks to the tropical rainforest that covers a majority of the island, Kauai is the oldest of the main Hawaiian islands. While a large amount of the island is uninhabited, Kauai still boasts a few impressive characteristics. The island is home to the largest coffee plantation in the United States, being the film backdrop to more than fifty movies and twenty-seven beaches perfect for water activities. It's no wonder the locals chose to stay in Kauai, and many have established businesses that enable island life to thrive. Read on to learn about eight can't-miss local businesses in Kauai.



Lilikoi Luxe
Lilikoi Luxe focuses on beauty and wellness products that are better for the planet, better for your skin, and better for you. With an emphasis on biodegradable packaging, wind-powered factories, and a multitude of reusable packaging options, Lilikoi truly knows how to pick a direction and stick to it. Assemble a new, natural skincare routine for any skin type that's cruelty-free, toxin-free, and earth-conscious.

However, Lilikoi's product selection goes beyond facial products to include oral care, hair care, bath necessities, and new home goods to extend wellness from beyond your skin into your home. Enjoy a variety of zero waste products for every man, woman, and baby in your life. Luckily, you can find a gift guide on their website to do a little pre-shopping before you stock up in person.
Oasis on the Beach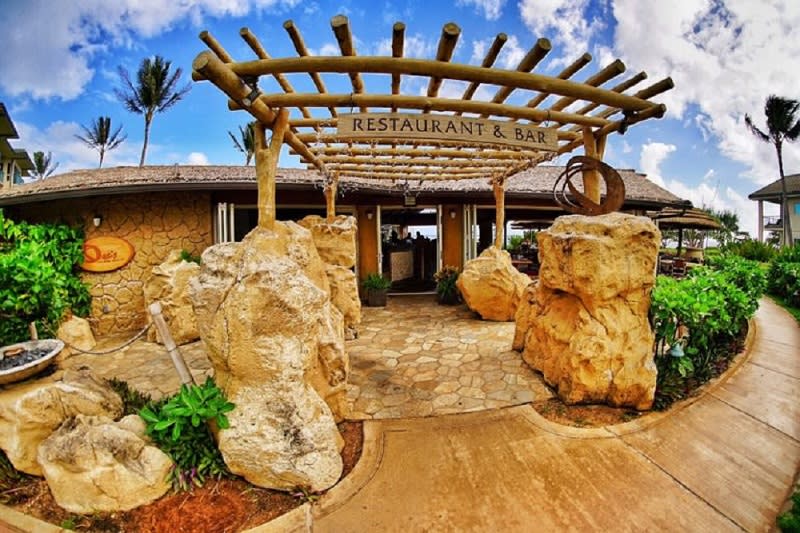 Credit: Oasis on the Beach

Opened in 2010 as the only farm-to-table restaurant on Kauai, Oasis on the Beach originally bought produce from weekly farmers markets across the island and fish from sustainable fishermen. Oasis strives to provide customers with fresh, local products and meals with grass-fed beef from Makaweli Ranch, McPhee's Bees honey and honeycomb, Kauai coffee straight from the plantation, and many other items.

Dine oceanside and enjoy a hand-picked wine or craft beer just a few steps from the beach. Sample Okinawan Sweet Potato Chips with roasted poblano cheese sauce, sustainably sourced calamari, or burger with tobacco onions, bacon jam, mixed greens, mustard, and seasonal cheese. Located on Kuhio Highway in Kapaa, this Oasis isn't one you'll want to miss.
Na Hoku
Hawaiian for stars, Na Hoku shines brightly as one of Hawaii's finest and largest jewelry manufacturers since 1924. Each piece captures the essence of the Hawaiian island lifestyle for you to take with you wherever you go. Na Hoku has store locations on four Hawaiian islands as well as sixteen mainland United States locations, but Kauai's can be found inside the Poipu Shopping Village in Koloa.

Bring home a piece of the island with a Plumeria necklace and matching linked Plumeria bracelet. Even though Plumeria is not native to the Hawaiian Islands, it remains one of the most popular varieties of lei in Hawaii.
Hanalei Surf Company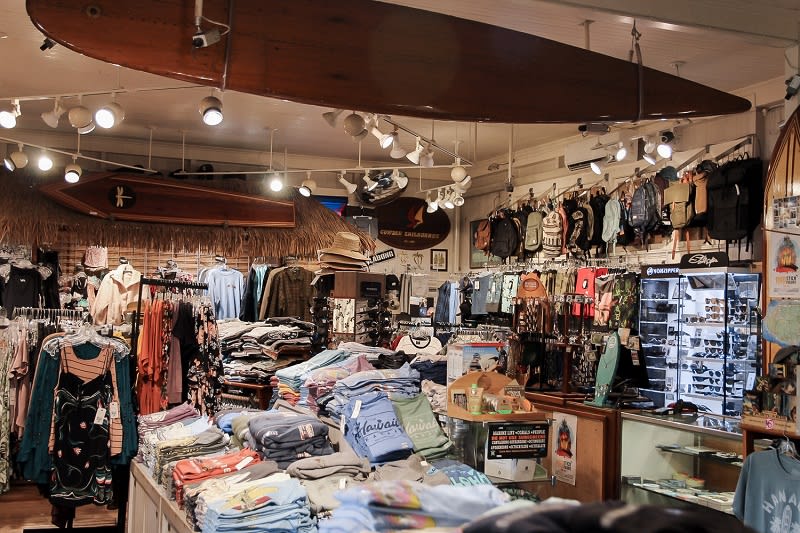 Credit: Hanalei Surf Company

Hawaii has cultivated an image of a large surfing community, and with the beautiful white, sandy beaches and clear turquoise waters, it's easy to see why. The popular sport is the perfect way to spend the day, regardless of skill level. Don't worry if you don't own any equipment; the Hanalei Surf Company has been available since 1982 with the largest, most comprehensive inventory of water sports equipment on Kauai.

Rent one of two hundred surfboards in various sizes to take to Hanalei Beach, just a four-minute drive or fifteen-minute walk away. Owner Charlie Cowden also offers beach chairs, snorkel equipment, and other beach accessories for rental in one, three, five, and seven-day increments. If the board or equipment initially rented doesn't suit you, feel free to bring it back and exchange it as many times as you need, with no fees for exchanges.

For those who fall in love with water sports and wish to own some of their equipment, Hanalei Surf Company has hosted a water sports swap meet on their front lawn for over thirty years. Buyers and sellers alike come to browse or market their used surfboards and other water sports equipment.
Sushi Bushido
Sushi Bushido began in Lihue in 2004, moved to Kapa'a town in 2009, then transferred once more to a newly built and designed space inside the Coconut Marketplace in Kapa'a. Owner Victor Heresa Jr. started working with traditional Japanese sushi in his twenties, and he has continued his work in the art for over thirty years.

His original creations for Sushi Bushido include the Golden Roll, which features fresh salmon, tuna, and crab, along with the Lava Roll with scallop, crab, shrimp, yellowtail, and fresh salmon, both served with an avocado unagi aioli. The menu has various nigiri, sashimi, hand rolls, specialty salads, and from-the-kitchen entrees to please any palette. Here, you can share a bottle of sake with a loved one while you listen to the occasional live music performance from local artists such as Kaua'i Kollab.
Ocean Tuff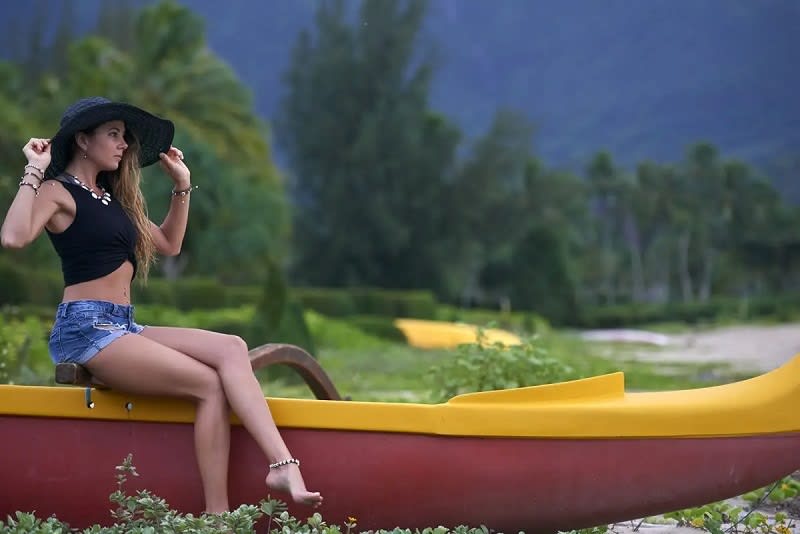 Credit: Ocean Tuff

Julia Smart and her sister Aerial founded Ocean Tuff after losing or destroying multiple jewelry pieces while participating in their favorite ocean activities. Ocean Tuff is a jewelry brand that specializes in creating designs that are beautiful and unique, yet durable enough to hold up against whatever pastime you choose.

The synthetic cord is coated in natural beeswax to ensure the jewelry is heat and weather-resistant. One strand of this cord can hold up to seventy pounds on its own, but all designs are made with three to six strands, with every braid and knot checked to ensure a product that will be durable, water-friendly, and rot and odor resistant. If your piece breaks or unravels, you only need to pay a small fee to have it repaired instead of purchasing anew, thanks to their quality guarantee.

All of the natural materials that are featured on anklets, bracelets, earrings, and necklaces are hand-picked on the island of Kauai. Ocean Tuff utilizes some natural materials: Hawaiian shells, pearls, puka shells, sunrise shells, and gemstones such as blue kyanite. All of the shells used in the brand's jewelry designs are ethically sourced by purchasing uncleaned shells from local divers and ensuring they are abandoned by their former inhabitants. Ocean Tuff jewelry can be found at a variety of stores in Princeville, Koloa, and Kapa'a.
Fish Eye Kauai
There's no mistake that the ocean is one of the biggest attractions for Kauai visitors. The variety of animal life, pristine white sand beaches, and water activity options are extensive for one island and are all it takes to draw in up to 140,000 visitors every month. Fish Eye Kauai's founder Scuba Tom felt the draw to explore the underwater landscapes and bring them to life for those above water. Therefore, he taught himself photography to make it happen. Tom's photography features local landscapes, waves, and many underwater animals, including sea turtles, octopi, dolphins, sharks, and more. Tom opened the underwater photography and art studio in 2014, and now Fish Eye Kauai has two locations: Princeville and Old Koloa Town. Both locations also feature locally made jewelry from Ocean Tuff and Makai Designs, art from local artists, and other handmade creations.
Kauai Coffee Company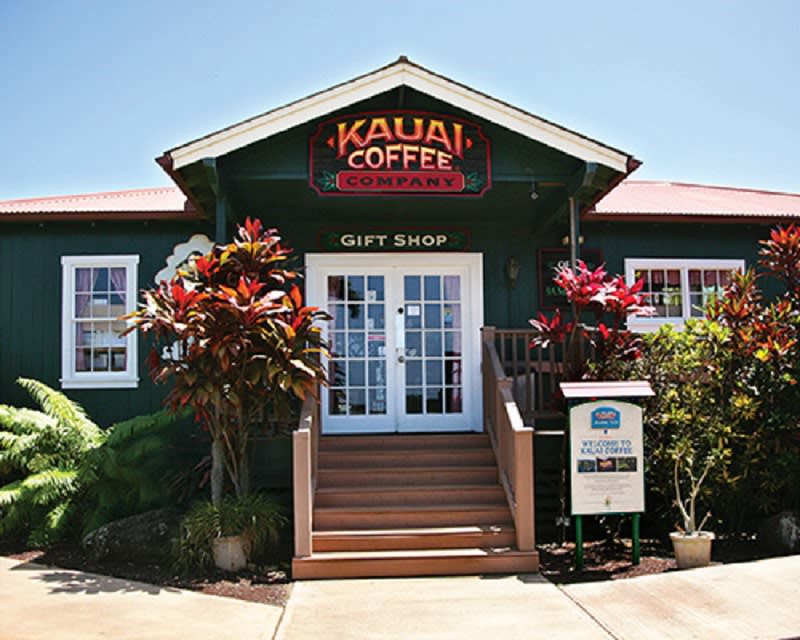 Credit: Kauai Coffee

Visitors to Kauai should not pass up the opportunity to visit the largest coffee grower in the United States. Located roughly seventeen miles from the Lihue airport is the Kauai Coffee Company. Beginning in the early 1800s and persevering through the 1992 hurricane, Iniki, Kauai Coffee managed to recover from the natural disaster that caused over eight million dollars in damages to their crop.

Stop by the visitor center and take advantage of the free walking tours through the orchard of over 4 million coffee trees growing strong on over 3,000 acres of Kauai land. Talk to the guides and learn about the entire coffee production process. From the crop's growing to the roasting to the packaging, Kauai Coffee strives to maintain sustainable, environmentally sound practices throughout every step. During your visit, you'll learn about the five different coffee varieties and sample the exclusive line of estate grown exclusively Hawaiian coffees. Kauai Coffee Company truly works hard to assure quality and excellence to their customers with the utmost consistency.

Whether it's the lush countryside, the crystal clear waters, or spending time with the locals, you may find yourself longing to live the island lifestyle. Don't waste your time scouring Kauai real estate listings, as looking at houses in Kauai is a breeze with a local Kauai realtor. Contact Yvonne Summerfield today, and find a home or condo that fulfills your wildest Hawaiian dreams.