Known as "The Garden Isle," Kauai is the fourth largest island in Hawaii. Located in the South Pacific ocean, this tropical paradise is both a favorite tourist destination and a beloved home to residents. Here you can discover plenty of access to nature, great ways to spend time outdoors, and breathtaking panoramic views.

While here, people from all walks of life can enjoy the shimmering blue ocean, crisp white beaches, and vibrant green scenery. There is a wide range of activities here such as surfing on the waves, horseback riding excursions, and zipline adventures. Whether it is building a sandcastle or going for a hike, you will be delighted by all there is to do here. Additionally, there are guided historical tours, restaurants with scrumptious food, and charming boutiques filled with thrilling treasures. As you explore the local area, you will be amazed by the picturesque neighborhoods and luxurious homes.

Covered by 97% of verdant forests, Kauai features both the famous Waimea Canyon State and the Na Pali Coast state parks. These are filled with lots of beautiful hiking trails and destinations to explore. It is the prime spot for nature lovers, birdwatchers, hikers, and those who simply want a refreshing getaway from the bustle of life. With its pleasant weather and lots of enthralling outdoor activities, Kauai is the ideal location for your next foray into nature! So what are you waiting for? Grab your hiking boots and slather on the sunscreen. Now is the time to explore!

1. Awa'awapuhi Trail

Credit: Awa'awapuhi Trail

Located in a gorgeous forest preserve, the 3.1-mile Awa'awapuhi Trail offers hikers spectacular views. From the elevation point of 1,180 feet, you can admire the dazzling beauty of the sparkling Pacific Ocean and the surrounding Awaʻawapuhi and Nualolo valleys. On this incredible hiking journey, you and your travel companions can soak in the wonders of nature and get some great exercise together at the same time.

You can breathe in the fresh air, bask in the glorious golden sunshine, and meander through the amazing outdoors. Not only that, but this is also the perfect opportunity to spend quality time with friends and make cherished memories that will last a lifetime. Hikers are advised to use caution on this trail and stay away from the outer edges. Don't forget to charge up your phone to take some fantastic photos!
2. Nounou East 'Sleeping Giant' Trail
The two-mile Nounou trail, also known as the Sleeping Giant Trail, begins in the Wailua House-lots neighborhood near the water pump. From there, your journey will take you up to a quick elevation of 1,000 feet. As you and your fellow hikers enjoy this splendid day in the great outdoors, you can also enjoy birdwatching and spot wildlife in its natural habitat. This is a great way to study and get to know the various kinds of flowers.

Along the way, you can admire breathtaking and panoramic views of the surrounding valley. Plus, you can pause on the trail and look behind you to enjoy the sparkling blue waters of the ocean. This is the perfect chance to capture exquisite photos of the local flora and fauna. Make sure you bring plenty of water and high-energy snacks! This trail is an estimated hour and nine minutes. For those who are curious about how it earned its interesting name, it was nicknamed 'Sleeping Giant' because it looks like a giant laying down, fast asleep.
3. Kuilau Ridge Trail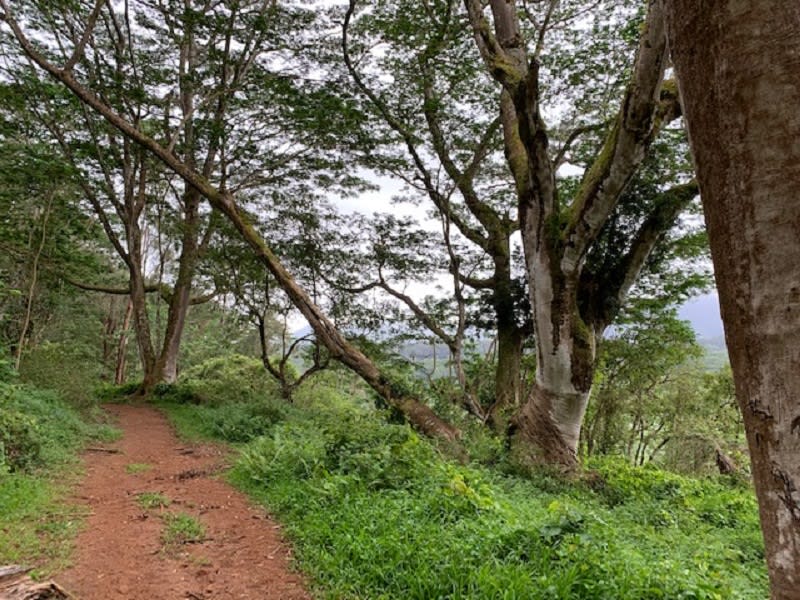 Credit: Kuilau Ridge Trail

Calling all plant lovers! Kuilau Ridge Trail is a great way to get out in nature and learn about the local vegetation. There is an amazing variety of exciting plant species to be discovered here. You will definitely want to make sure you bring your plant dictionary along for this excursion!

The trail is 2.5 miles both ways and connects with the additional Moalepe Trail. For hikers wishing to go further, this is the perfect chance to continue their exploration adventure. At the trailhead, you and your family can take a rest break at the picnic tables and enjoy a delicious lunch brought from home. This is also a great time to exchange stories about your hike and bond together.

On this captivating trail, you can experience the gorgeous views of the surrounding Makaleha Mountains. Here you will see sparkling waterfalls, vibrant green scenery, and beautiful wildflowers. This is an incredible way to learn about the local flora and fauna while making memories that will last a lifetime.
4. Canyon Trail
Located in Waimea Canyon State Park, the spectacular Canyon Trail is perfect for hikers of all skill levels. This relatively easy trail is a refreshing and leisurely way to spend time outdoors. On the pathway, you can admire wildlife and plants in their natural habitat. And, when you reach the top, you can enjoy breathtaking views of the gorgeous and vibrant colored canyons below. Here you and your crew bask in the beautiful scenic views and can snap fantastic photos of the scenery. For those who love fishing, this is a great chance to enjoy seasonal trout fishing as well.
5. Pihea & Alakai Swamp Trail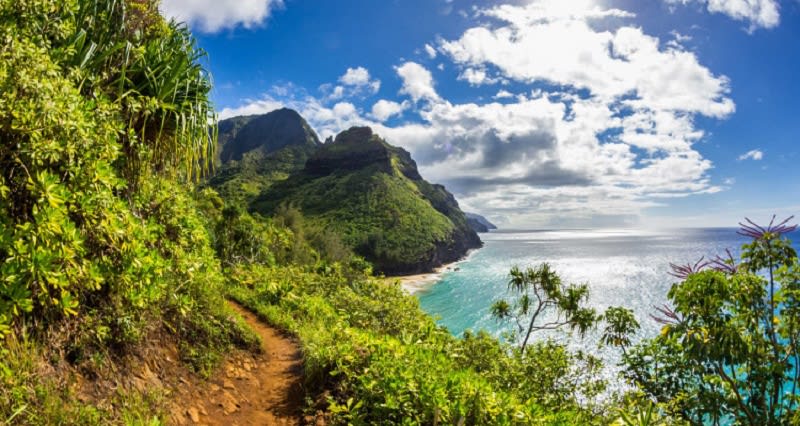 Credit: Pihea & Alakai Swamp Trail

The 7.7-mile-long Pihea & Alakai Swamp Trail is one of the favorite trails in the area. This hike begins in the open valley and then the scenery gradually changes into the beautiful rainforest. As an additional help to hikers, boardwalks have been added to the trail to make the journey a bit easier.

These two trails start out at different points and then converge along the way. The terrain here encompasses the swamplands to the coastal cliffs. With the gorgeous terrain and stunning views of the waterfall, this is the perfect hiking destination for anyone! Because these are so highly popular, you are likely to meet other explorers along the way and might even make some new friends! This trail is dog-friendly so you can bring your beloved pup along on this adventure with you. What's more, this is a great way to have a photo opp with your dog.

Pihea and Alakai are easy to access and open to the public all year round. Trust us, this fantastic hiking experience is one you simply won't want to miss!
6. Honopu Ridge Trail
Are you looking for a challenge? Or perhaps wanting a hike that is a bit more exciting? Made up of 4.2-miles, Honopu Ridge Trail is an absolute must-see! This trail is marked well and fairly easy to follow. However, because the pathway is less maintained and crosses rugged terrain, it is a better fit for more experienced hikers.

Along the way, you and your crew can enjoy spectacular views of the surrounding scenery. This is a great bonding activity with friends and a way to put in some solid exercise as well. You can stop to share a tasty picnic lunch and soak up the wonderful sunshine. Make sure you bring your water bottle and protein snacks as well!
7. Nu'alolo Trail
If you are looking to spend the day in the great outdoors or want to get to know the local area more, the Nu'alolo Trail is right for you! With its brilliant red dirt and vibrant green vegetation, this trail is wildly popular among explorers. It is 7.5 miles long and reaches an elevation of 2,578 feet. As far as trails go, this is considered more challenging. Because of this, hikers are encouraged to prepare thoroughly for this experience out in nature and pack necessary items.

With the seasons changing, this is the ideal time to soak up nature and experience the epic views of the coastline. As you pause for a moment here, you can capture great photos to share with family and friends back home. Or, if they have come on this hike with you, this is also a perfect chance to rest and chat together about your experience thus far. Whatever you choose to do, you will definitely get in a strong workout on this trail and be able to enjoy amazing views.

So what are you waiting for? Lace up your hiking boots and grab the beef jerky. Now is the time to go and explore! Make sure you bring more than enough water and don't forget to lather on the sunscreen, too!
8. Hoopii Falls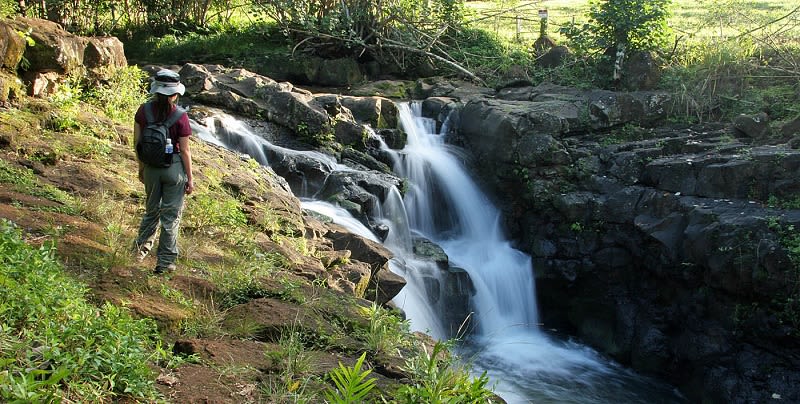 Credit: Hoopii Falls

Welcome to the world of waterfalls! Hoopii Falls trail features two shimmering waterfalls which cascade down the mountain clefts and tumble into the pools below. For those wishing for a quiet and peaceful hiking journey, this is an idyllic location for you to explore. These beautiful falls promise a great way to make memories and soak up the local natural habitat.

If you are looking to explore Kauai' real estate, contact Yvonne Summerfield today. As an expert in homes for sale in the Kauai' area, she and her professional team will walk you through the house buying process and help you find your perfect dream home.